Added bonus?
You won't hear jargon or marketing-speak
Your business growth goals are the foundation of a sound strategy
You'll be working with pros, experienced in marketing for manufacturers, which means you benefit from day one
RESULTS
These client outcomes reflect strategic thinking, creative collaboration, and goal-driven marketing initiatives.
Objective
A newly launched website, with content developed targeting each of the firm's primary audiences: Architects, General Contractors, and Elevator Contractors, was met with great success. Upcoming trade shows required additional sales tools for face-to-face meetings and presentations.
Before
Existing sales collateral did not match the new branding and compelling story of how and why this unique product is manufactured.
After
A concise, 4-page brochure, which could also be used as individual sell sheets, told a compelling story to each of the target audiences. A professional, detailed PowerPoint was developed specifically targeting Architects at trade show meetings. Click here to view the full website.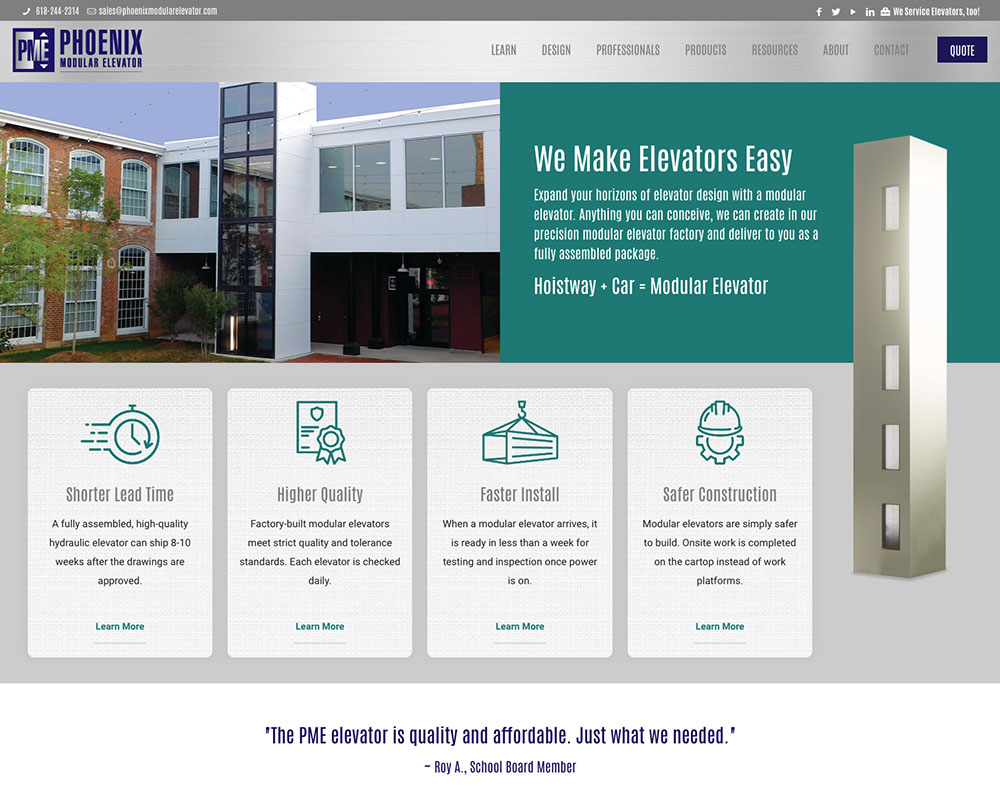 Objective
Build a single-page website showcasing company capabilities and knowledge in a manner which projects professionalism, creates interest and can be used as the basis for all future marketing initiatives.
Before
The existing single page site contained highly technical and detailed information yet lacked in design or information hierarchy, creating user confusion.
Objective
To create a sell sheet and PowerPoint presentation directly promoting a specific service, TURNKEY PRODUCTION of FPGA systems. 
Before
Neither the website, a simple sell sheet nor an old PowerPoint clearly articulated the value of Versachip's turnkey production services.
After
A sell sheet and detailed PowerPoint, which showcased 'hidden' content from the website combined with new content, created a compelling and effective presentation and leave behind tools.
Objective
To update the existing website with content and design which speaks directly to the target audience, allowing visitors to navigate and find relevant content more easily.
Before
The existing site's fell short in conveying their capabilities, and as a result, navigation and content, including extensive images, were not used effectively, creating a dull experience.
After
The new site showcases the firm, it's services and products in an engaging manner.  Their patented PERC system was given a much more prominent role on the website. Click here to view the full website.
Objective
Create sales literature, in the form of sell sheets and a presentation, for a completely new market – FLAVORS and FRAGRANCES – for a firm whose current client list consists of nearly 99% OIL, GAS and PETROLEUM manufacturers.
Before
Nothing existed. The firm's product line could be used in the 'new' industry, but content was lacking for this audience.
After
Sell sheets and a detailed PowerPoint, highlighting how the firm's product lines can be used in the FLAVORS and FRAGRANCES industries, were produced for use at individual trade shows. Given the new market opportunities, the firm has also found success in promoting these tools internally to its sales and marketing team.
Objective
Recreate the website with a design that better utilizes the resources and information available, using WordPress for ease in future updates
Before
The website did NOT tell the compelling story of the people, products, and services behind Concept2Creation, especially given the target audience of industrial and product designers.
After
A much more informative and professional-looking site, including a new product/design gallery, providing site users with the information they need to move forward in their decision-making process. Click here to view the full website.
I'm ready for results.
---
"*" indicates required fields